Download Headshot Download Demoreel Download Resume
Biography
Laura Weissbecker is an internationally acclaimed, award-winning, multilingual, French actress. Winner of the prestigious Chinese Huading award for "Best New Actress", Laura has worked in France, Germany, the United States, and China, with famed directors including Jackie Chan, Cedric Klapisch, Elie Chouraqui, Mark Romanek and Tonie Marshall. Laura boasts a masters degree from one of the elite engineering schools in France and is fluent in French, English, Chinese and German.
Laura began her film career in 2002, when director Tonie Marshall (winner of the 2000 Cesar French Academy Award for best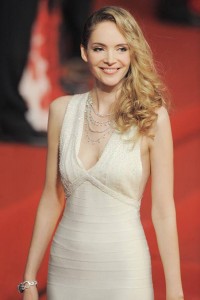 film, best director and best screenwriter) offered her a role opposite Francois Cluzet in her feature film "France Boutique". In France, Weissbecker is best known both for her role in "Versailles, the Dream of a King" directed by Thierry Binisti, a high profile TV movie which aired on France 2, Japan (NHK) and the UK (BBC), and her role in "Russian Dolls" directed by Cedric Klapisch (also starring Audrey Tautou, Romain Duris, and Cecile de France).
Weissbecker was also featured in a German TV movie "Achtung Arzt" directed by German director Rolf Silber, which was shot in Berlin.
Laura's most prominent came in 2012 when she was handpicked by Jackie Chan to star in one of the leading roles in the film "Chinese Zodiac 12″, an international feature starring, and directed by, Jackie Chan. In the role of Catherine de Sichel, Laura showcased her comedic talent and was awarded ''Best Emerging Global Actress'' at the Chinese Huading awards in Macao in October 2013 for her performance. The film was a huge commercial success in Asia, particularly in mainland China, where it is listed amongst the top 5 biggest box-office hits for a Chinese movie in the country's history.
In 2015, Laura starred in ''Mad Dogs'' produced by Sony and Amazon, shot in Puerto Rico, starring Billy Zane; she also starred in the American feature film ''Breaking Brooklyn'' with academy award winner Louis Gossett Junior.
 Demoreel
2014-10 demo Laura Weissbecker from laura weissbecker on Vimeo.
Chinese Zodiac Demoreel